Doctor of Science (HonorisCausa)

---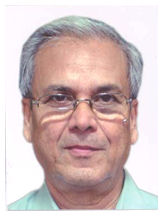 Prof. Amitabha Ghosh, one of the outstanding researchers, received his Bachelor and Master's degrees in Mechanical Engineering from Bengal Engineering College, Shibpur, (Calcutta University) in 1962 and 1964, respectively. He joined the Mechanical Engineering Department of this college as a Lecturer in 1965 May and continued his doctoral research finally receiving the Doctor of Philosophy degree from Calcutta University in 1969. He joined IIT Kanpur in January 1971 as an Assistant Professor of Mechanical Engineering and became Professor in 1975 June. From 1977 to 1978 he spent at the Technical University Aachen with Alexander von Humboldt Foundation fellowship. From 1997 to 2002 he served IIT Kharagpur as the Director and subsequently returned to Kanpur where he continued as a Professor till his retirement in 2006. Afterwards he become a Senior Scientist of the Indian National Science Academy, New Delhi and Honorary Distinguished Professor at IIT Kanpur and Bengal Engineering & Science University, Shibpur till 2011. Currently Prof. Ghosh is a Platinum Jubilee Senior Scientist of the National Academy of Sciences, India and an Honorary Distinguished Professor, Department of Aerospace Engineering and Applied Mechanics, Bengal Engineering & Science University, Shibpur.
 He conducted research on diffusion wear of cutting tools and, later along with his students, discovered a new tribological effect when magnetic fields are imposed on ferromagnetic bodies. He also discovered the means of enhancing vibration damping through introduced stress concentration. At IIT Kanpur he guided a large number of Masters' and 18 PhD students. Apart from solving the kineto-elastodynamic problems of high speed mechanisms for the first time, he, along with, his students was the first to discover the phenomenon of chaos in mechanical systems and conducted the first experiments on mechanical chaos in 1978. He proposed a new theory of inertial induction model of Gravitation leading to a number of profound cosmological and astrophysical consequences. Apart from developing some new advanced manufacturing processes utilizing the electrochemical discharge phenomenon and some new stationary and mobile robotic systems for the Department of Atomic Energy, India he also developed an innovative regenerative brake mechanism and stable drive system for cycle rickshaws. He also invented a number of new drive systems and mechanisms and conducted original research in the area of Kinematics and Dynamics of Machines. He has published over 120 research papers and written five books; the text books by him have made a lasting impression on the way the subjects are taught in India and abroad.
 During the last six years he has been coordinating a major Indo-US Centre, 5 funded by the Indo-US Science & Technology Forum, for collaborative research in the emerging area 'Fabrionics' (advanced and futuristic fabrication techniques at micro and nano scales) involving IIT Kanpur, IIT Kharagpur, CMERI Durgapur, BESU Shibpur, University of Illinois at Urbana Champaign, Northwestern University, University of California, Irvine, University of Illinois at Chicago and University of Missouri, Columbia. He is currently the Chairman, Board of Governors, National Institute of Technical teachers Training and Research Bhopal under MHRD and Birbhum Institute of Engineering and Technology, Suri. Prof. Ghosh was the first to receive Distinguished Teacher Award of IIT Kanpur. He also received the National Design and Research Award by the Institution of Engineers (India), Engineering Personality Award by the Institution of Engineers (India), and the Lifetime Achievement Award at the International Manufacturing Design & Technology Research Conference, 2006. He has been conferred with Doctor of Science (Honoris Causa) by Bengal Engineering and Science University, Shibpur. Prof. Ghosh also writes articles in Bengali for magazines like Desh, Anandamela, Hriday etc. His two Bengali novels have been published by Dey's Publishers and Sahityam. After settling in Shibpur, Howrah, Professor Ghosh took the leading role in establishing a registered academic society, South Howrah Citizens' Forum, and is the President of this Forum.